Social Ride Outs:
All of our Social Rides are open to old students and your friends. All ride outs are free to come along too. More details can be found on our Facebook Page.
---
Upcoming Ride Outs:
---
Join Pass Bike for our first ride out of 2018! Meeting at our Training Centre (Yard 2, 8 Purdeys Way, SS4 1NE) at 8:30am on Sunday 8th April 2018 at 8:30am.
We will be heading to the Filching Manor Motor Museum just outside Eastbourne. The Manor Museum is open by appointment only and we have arranged a guided tour at 1pm (£8), the museum has some great exhibits including the K3 Bluebird and historic vehicles which have been showcased at Goodwood. As with all ride outs there is no obligation to come into the museum or on the tour, the museum is located just outside Eastbourne so why not head there for a spot of lunch instead if the museum is not for you.
The ride will be split into two groups, so all riders including those with a CBT.
So Join us for a great ride and day out. If you haven't currently got a bike but are interested in coming on the ride out, a limited amount of bike hire is available please call our office on 01702 619423 to discuss.
---
Photos from previous Ride Outs can be found on our Facebook Page.

sf
For the latest News & Reviews:

Pass Bike presents
Low cost insurance from: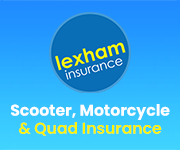 Work for the Fire, Police or Ambulance Services? Enjoy discounted rates on all our courses!
For more details email your inquiry to info@passbike.co.uk
Or Call 01702 619423
Check out our face book page for our latest offers!